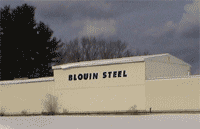 ° Institutional
° Commercial
° Schools
° Hospitals
° Industrial
° Renovations
° Repairs
° Residential
° Municipal
° Waster Water Facilities
° Water Treatment Plants
° Steel Sales
Blouin Steel Fabricators, Inc.
Structural Steel Fabricators
Specializing in Water Treatment Plant & Waste Water Treatment Fabrication
Efficient fabrication procedures coupled with a productive workforce translate to outstanding value for your customers. Experience, Expertise, Service, Project management and Value are the reason you should choose Blouin Steel Fabricators as your fabrication partner.

Journeymen/Field Services:

Complete project management
On-site fabrication, repairs and maintenance
Fully equipped mobile trucks
OSHA guards, rails, ladders, stairs and platforms
Facility shutdowns
Emergency on-cell services

Fabrication Services:

Burning and plasma
Forming
Sawing
Complete assembly
In-house painting
Shearing (1/4 inch)




Construction Services:

OSHA stairs
Handrails
Ladders
Mezzanines
Hospitals
Schools
Commercial buildings
Dairy
Manufacturing Additions