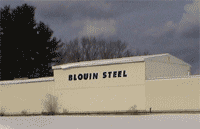 ° Institutional
° Commercial
° Schools
° Hospitals
° Industrial
° Renovations
° Repairs
° Residential
° Municipal
° Waster Water Facilities
° Water Treatment Plants
° Steel Sales


We accept Visa and MasterCard
over the counter steel sales
Blouin Steel Fabricators, Inc.
Structural Steel Fabrication - Aluminum and Stainless Steel Fabricators
Specializing in Water Treatment Plant and Waste Water Treatment Fabrication
We provide complete structural steel fabrication services based out of Northfield, NH. Let us handle your next project.

Structural Steel

Structural Steel Fabrication: We fabricate everything for your structural steel projects, from the main structural members down to the small misc. items such as stairways, safety bollards, and steel concrete embeds.


Custom Metal Fabrication

Miscellaneous steel and metal stair fabrication: Take advantage of our in house erection crews to make sure your job is completed to the highest standards.

Members of AISC, SSFNE & ANSI/AWS

» Experienced journeymen and technicians for on-site
fabrication, repairs and maintenance

» ASTM Approved standards

» OSHA Guards, Rails, Ladders and Platforms

» Experience and expertise in stainless steel, aluminum, mild steel & alloy steel.

» Complete project management

» Design - Build Capabilities





In addition to structural steel, we offer custom fabrication of galvanized, stainless and aluminum systems, miscellaneous items such as stairs, handrails, mezzanines etc. We pre-assemble many in our shop, allowing most welds to be completed with greater quality and efficiency, thus reducing on-site installation time.